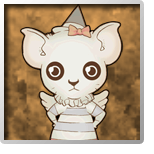 It's a disaster, Masters! Terribly strong Guardians drawn by the scent of candy are appearing at Glaverow during the night! And because they've been devouring magical sweets, these Guardians' bodies have transformed! So hurry to Glaverow and capture them--if you dare!

When

From 4:00 a.m., October 15, until 10:00 p.m., October 24 (EDT).
Where

Glaverow Volcanic Zone (Night), on both normal and special hunting courses.
Spawn rates vary between courses.
Guardians
What
Two new Halloween silhouettes have been added to Glaverow Volcanic Zone (Night) for a limited time. These silhouettes yield special Halloween Guardians.
Pages in category "Guardians of All Hallows' Eve"
The following 3 pages are in this category, out of 3 total.
Ad blocker interference detected!
Wikia is a free-to-use site that makes money from advertising. We have a modified experience for viewers using ad blockers

Wikia is not accessible if you've made further modifications. Remove the custom ad blocker rule(s) and the page will load as expected.