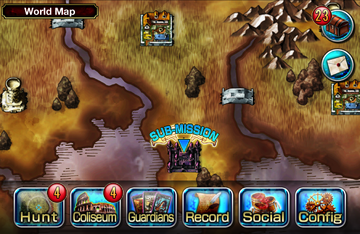 Crimson Keep is a limited time event dungeon similar to Temple of Dagon. It will be available until Feb 7th. You can go through three times, and collect a large number of Magic Stones that boost stats as rewards. The first and second times through are easy mode, and you can fight a battle as many times as you need to win with a weakened opponent. The third time through, the bosses will not become weakened meaning you have to win the battle in a single fight with your deck. A good number of the Guardians in the boss encounters have revive, so sometimes it just comes down to luck on how many revives happen on a fight. The fourth time through is Nightmare, featuring more difficult bosses.
Finding doors and keys
Edit
There is a guide to finding the doors, keys and chests on each level of the dungeon. The tricky part is that there are several different layouts for most of the levels. I've seen as many as four different layouts of the same level. In the guide below there are links to guides. You will want to look at all the possible layouts for a single level, then pick one battle to fight. Then you can try to match up the layout you have against one of the known layouts.
When I find a layout that doesn't match any known layout, I have pretty good luck finding the battles which are not keys, doors or chests on any known layout. Odds are better than 50% to find a key, door or chest with that approach. Then when you find all three, take a screen shot and upload it here! You can upload directly from your phone.
I've started my second run through the dungeon, and the floor layouts are the same as the first time through.
Trivia Questions
Edit
Right after the boss on every tenth level, you'll have to anser a trivia question. They are pretty trivial (LMFAO, HAHAHA) and can easily be googled, but I'll collect them here when I can find them. You answer by choosing a door on the left or right, so they are multiple choice questions with only two options.
If you're not sure about a question, look it up! If you answer any of the questions wrong, you'll end up at the top of the tower without the end rewards!
Also, if you leave the game after you've been asked the questions, you'll just be looking at the two doors. It won't ask you the questions again!
Treasure Floors
Edit
The treasure floors will start with the door already shown. You can move to the next level at any time without a key. One of the chests will be a fight against 10x Maniacal Juggernauts who have Quick Strike as well as Self-destruct. These Juggernauts are pretty weak, most of my 4* cards can one-shot them, but then get killed by the Self-destruct. If you want to win these, stack  your deck with high HP and high DEF guardians. Reportedly if you win you gain 100GP and a Stat Stone (I).
Levels 1-10
Edit
Levels 11-20
Edit
Levels 21-30
Edit
Levels 31-40
Edit
Levels 41-50
Edit
Pages in category "Crimson Keep"
The following 4 pages are in this category, out of 4 total.
Ad blocker interference detected!
Wikia is a free-to-use site that makes money from advertising. We have a modified experience for viewers using ad blockers

Wikia is not accessible if you've made further modifications. Remove the custom ad blocker rule(s) and the page will load as expected.